The Ha-long Bay in Vietnam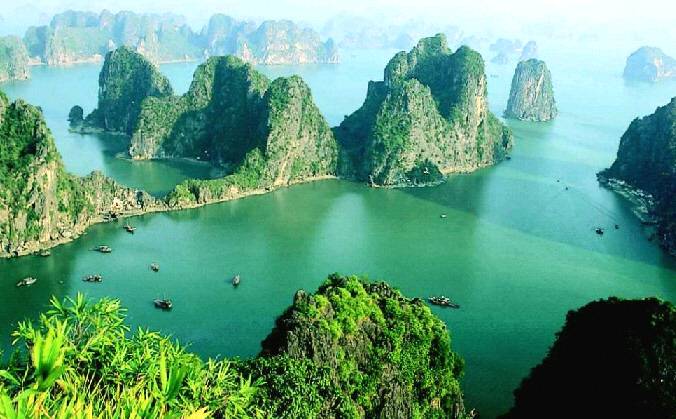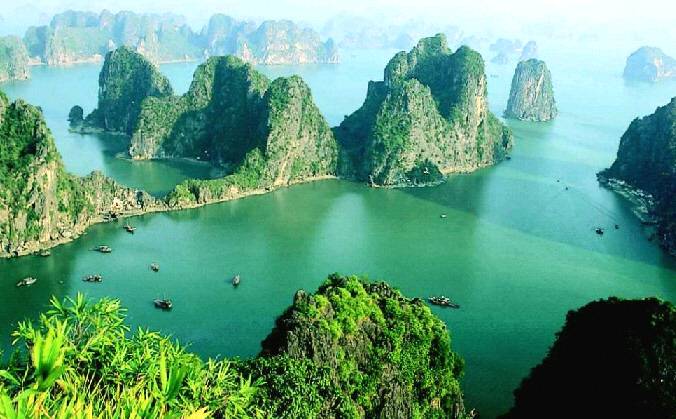 The Ha-long Bay is a body of water of approximately 1,500 km. Located north of Vietnam, in the province of Quang Ninh, the bay extends along a coastline of 120 km. Ha-long Bay was nominated for the candidacy of the 7 wonders of the modern world, but unfortunately Did not get to be part of them.
The presence of karst elements in a total of 1969 islands of various sizes and shapes. Many of the islands are hollow, with enormous caves, other they support floating villages of fishermen, who sail the shallows looking for the 200 species of fish and 450 different kinds of mollusks.
Another feature of Ha-long Bay is the abundance of lakes inside the limestone islands, for example, Dau Be island has six enclosed lakes. All these lakes occupy the islands within the karst valleys fengcong submerged.
The bay of the descendants of the dragon (Ha-long Bay) is known for the legend that surrounds this area, or rather, the origin of this area. The legend of Halong Bay says that during the time of Emperor of Vietnam, the Chinese invaders wanted to seize the land of the Vietnamese empire, the Emperor asked for help from a family of dragons, who threw pearls and jade to sink enemy ships . After the battle, and contemplating the beauty of the place, the dragons and their descendants decided to stay.
During the journey through Ha-long Bay, you can visit many of the caves that have formed in the vast islets of Halong. The most famous caves are Hang Sung Sot (Cave Stun), Hang Dau Go (Wooden Escondida cave), Hang Thieng Cung (Heavenly Palace Grotto), Hang Bo Nau (Pelican cave), Dong Tam Cung (cave three Palaces) and Hang Trong (Drum cave).
Hang Sung Sot Cave is famous because inside there is a rock shaped like a penis. The French called this place Isle of Surprise. It is composed of 3 different cameras (the famous rock, is located in the first chamber of the cave). Access to the cave is a wooden bridge over the sea and 90 steps.
The immense place which is Halong Bay makes it imperative of a Cruise to enjoy the beauty of this natural setting and point of interest of our visit to Vietnam.
It is best to hire a cruise 2 days / 1 night, the price is $ 99 (U.S. dollars) per person. Depending on the agency, transportation from Hanoi can be included in the price or not. A cruise on Ha-long Bay in the price includes a double cabin, full board but does not include the drink.
---
---