The Banaue Rice Terraces in Philippines.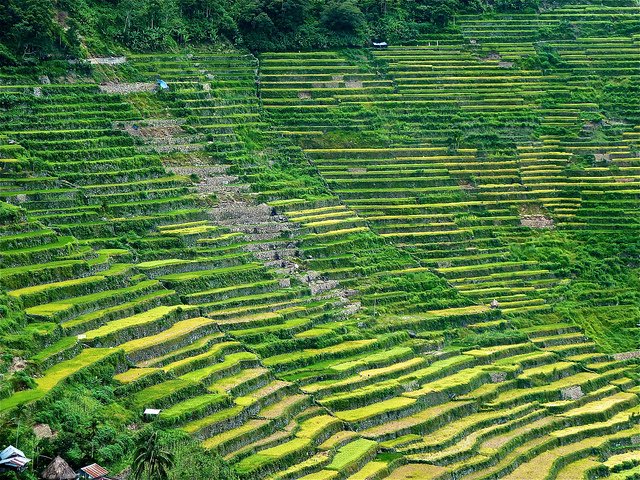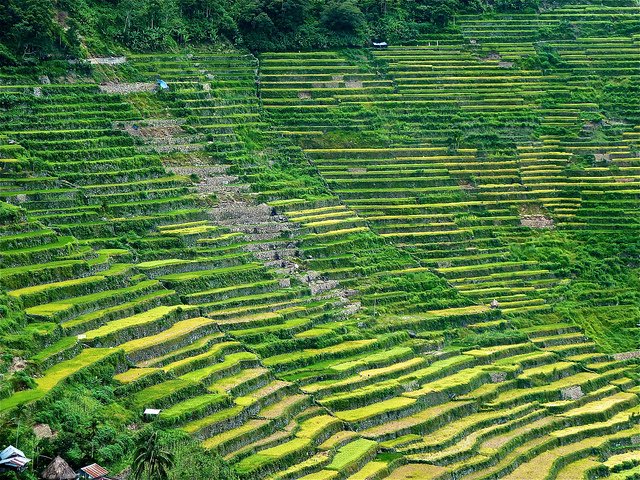 The Banaue Rice Terraces in Luzon and considered World Heritage by UNESCO, are ancient buildings to cultivate this cereal in the slopes of the mountainous provinces in the Philippines, with plantations above 1,500 meters above the sea.
Banaue, with a population of around 21,000 people, comprising 19 small villages, where people do not live surprisingly rice, but cutting down trees, woodworking and the sale of their crops.
Poverty and cement modesty covering all small houses contrasts with the thousands of details carved wooden doors of every home, where chickens and some goats wander listlessly starving.
Rice, the staple food of the country, is the protagonist of the architectural work that is created was created more than two thousand years to prepare the fields that require standing water, on the slopes of the Ifugao province, about 350 kilometers north of Manila.
The terraces, whose origin is attributed to the influx of refugees from China, covering large tracts of land, some 20,000 acres, and give a tiered look to the hills on which they have risen.
For the tourist, there are trails to walk the terraces, sometimes called "the steps to heaven" and considered by the Ministry of Tourism of the country as a national treasure that must be preserved.
The future of the terraces, however, it seems clear to the migration of the indigenous community, which has kept tens of generations for such plantations, into the cities or abroad, thus reducing the population devoted to rice planting in difficult mountain terrain.
To assist in the conservation of this engineering, the nonprofit group e8 ¨ ¨ early 2010 donated one million dollars to establish a plant hydrological whose proceeds will partly protect the terraces.
---
---