notre dame paris cathedral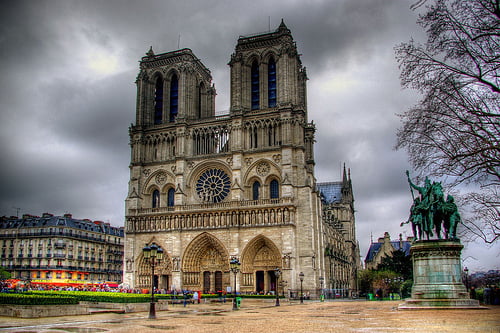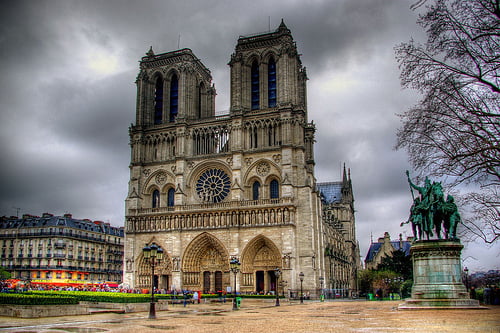 Built between 1163 and 1245 in the Ile de la Cité, Notre Dame is one of the world's oldest Gothic cathedrals. The name means Our Lady Cathedral and is dedicated to the Virgin Mary.
Notre Dame
DameNotre Notre Dame, gargola
Gargoyle of Notre Dame Notre Dame admiring ParísCatedral
Cathedral of Notre Dame from the river
In its eight centuries of history, Notre Dame Cathedral has been renovated several times, the most important mid-nineteenth century. Throughout these years were replaced the flying buttresses, the south rose window was inserted, the chapels were reformed and statues were added.
In Notre-Dame they have held major events, including would highlight the coronation of Napoleon Bonaparte, the beatification of Joan of Arc and the coronation of Henry VI of England.
The towers of Notre Dame
Notre Dame has two towers of 69 meters on its facade. Accessing the top of the towers, while appreciating the fantastic views, you can visit the belfry in which lived the legendary hunchback of Notre Dame and see up close the many gargoyles.
To visit the towers are accessed through the entrance on the left side of the cathedral and 387 steep steps walk you up, because Notre Dame is no lift.
As a tip, the best option is early and arrive before 10 am to be among the first in line. This is going really slowly and during the day can last more than two hours.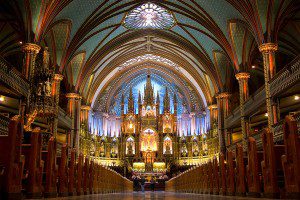 Visit Notre Dame
For travelers visiting Notre Dame during the weekend and want to learn more about the cathedral, guided tours in Spanish every Saturday at 14:30 hours tours available.
If you can not go on a Saturday, you can also enjoy guided tours in English every Wednesday and Thursday at 14:00 or rent a audio guide.
The Crypt
Located in the basement of the Plaza de Notre Dame, the crypt contains the remains discovered during the excavations of 1965. It was opened in 1980 and its entrance is at number 1 in the square.
We believe that the visit of the crypt is not worth it.
Location
6 Parvis Notre-Dame. Place Jean-Paul II.
Visiting hours
Monday through Friday from 8:00 to 18:45 hours.
Saturday and Sunday from 8:00 to 19:15 hours.
Price
Free entrance to the cathedral.
Torres:
Adults: € 8.50.
Under 18: free.
EU citizens between 18 and 25 years: free.
Free entry to Paris Pass and Paris Museum Pass.
Crypt:
Adults: 7 €.
Young people between 14 and 26 years: 5 €.
Children under 14: free.
Free entry to Paris Pass and Paris Museum Pass.
---
---